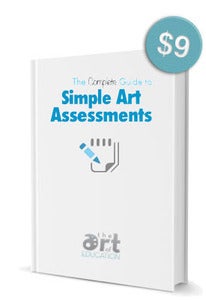 $

9.00
The ultimate resource for busy Art Teachers who don't feel they can afford time to add one more thing to their plate. This eBook helps you get motivated and excited about assessment by dispelling the myths, breaking down barriers, and giving you strategies and printable guides you can use right now, today, in your classroom. It empowers you to ask the right questions of your students, and make the small changes that make all the difference in student Art Room performance.
60+  pages of Art Ed Assessment Tips, Tricks, Strategies and Practical Solutions
20+  specific examples you can put to use immediately
10+  Free included "printables" to save you the time of making your own assessments.  Just print, copy and put them to work in your own Art Room
Sample Assessment plans and workbook pages giving you the tools to create and customize your own unique assessments. Tools to help you develop a plan that you can stick with
Hundreds of ideas tested by real art teachers, not complex theories, but practical ideas that any busy Art Teacher can implement in their own classroom 
Finally, a simple guide to assessment designed just for art educators! Download to discover how assessment can be fun and simple for both you and your students.