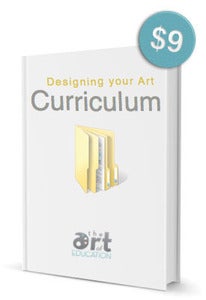 $

9.00
50 + Pages of Curriculum Information, Process and Real stories from practicing art teachers
20 + Samples of Art Curriculum Documents from around the Country
10 + Downloadalbe and Editable planning matrixes to help you with scope and sequence. Download, Edit, and put them to work right away to get your organized!
A comprehensive sample of what a finished curriculum looks like, and a checklist to help you complete one for yourself, including assessment plans, resources, vocabulary, media and even interdisciplinary connections.
Stories and testimonials from art teachers who've been through the curriculum process, and have successfully implemented new initiatives in their classroom.
Everything in this handbook is easily customizable and flexible to help you meet the needs of your students and your situation.